The American Board of Orthodontics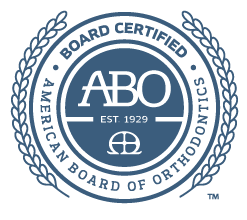 Rankin & Fiume Orthodontics is a board-certified practice, which indicates our commitment to only the highest quality of care and outcomes for their patients.
What is a board-certified orthodontist?
An orthodontist is a dentist who has not only completed a graduate program in dentistry to receive a dental degree, but also gone through a competitive residency at an accredited orthodontic program for an additional two to three years to be trained specifically in orthodontics and dentofacial orthopedics.
A board-certified orthodontist is an orthodontist who has voluntarily gone through hundreds of additional hours of preparation to demonstrate the judgment, skills, and knowledge required to provide the highest level of patient care. Less than 30% of orthodontists become certified.
What is the process to become board certified?
Since its founding in 1929, the process has changed many times. Today, it involves a thorough written examination that covers all areas of information on which an orthodontist should be knowledgeable. Successful passage allows the orthodontist to present detailed case reports, which demonstrate a history of quality patient care.
These cases are evaluated by expert examiners of the board during a clinical examination. An oral examination is then given, and the applicant is tested on a wide variety of academic and clinical topics.