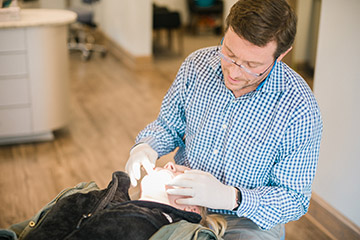 We look forward to meeting you at your first visit to our office! Your first visit will consist of an exam by our doctors, a discussion about your orthodontic treatment needs, and a review of different treatment options available to you or your child.
This is also a great opportunity for you to become acquainted with our office and meet Dr. Rankin, Dr. Fiume, and our amazing team. There is no charge for your initial visit, and the appointment usually lasts about one hour.
Here's What to Expect at Your First Visit
Digital photographs of the patient's face and teeth will be taken.
Digital X-rays of the patient will be taken for assessment of teeth and jaws. (Digital X-rays produce 75% less radiation than the traditional kind.)
Exam by the doctor to evaluate the patient's teeth and bite
Verbal and visual explanation of the patient's treatment needs as well as different treatment options to address those needs
Discussion with our treatment coordinator to review fees specific to you or your child's treatment, any applicable insurance benefits, and individualized payment options available to you
Save Time Prior To Your First Visit with Us
Submit the new patient health history form ahead of time online!
Review our consent form online.
Provide us with any information you have on your orthodontic insurance ahead of time so we can identify your specific coverage and inform you of your insurance benefits on the day of your exam.
Bring in any X-rays, models, or other dental records that you may have had taken previously.
Write down any questions you may have and bring them with you to your first visit.
Fun
Yes, orthodontics can be fun! At Rankin & Fiume Orthodontics, we have designed an office that caters to children, teens, and adults. Our office waiting area for children consists of a game room for kids' entertainment while our teen and adult waiting area offers an iPad coffee bar with free WiFi access, fresh baked cookies, and large HD televisions.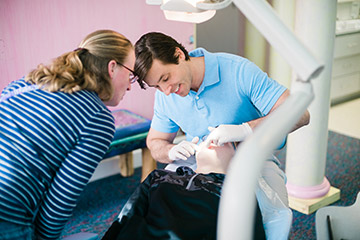 Friendly and Open
We have an open-door policy that allows family members to accompany the patient to the operatory. This gives Drs. Rankin and Fiume the opportunity to answer any questions the patient or parents may have, and it helps to keep everyone informed on the progress of treatment.
We find the open-door policy also helps patients and their family members better understand their roles in the treatment process (i.e., importance of wearing headgear, elastics, hygiene, etc.)
Superior Customer Service
Orthodontic treatment is a long-term, ongoing process. Knowing this, we strive to make your orthodontic treatment a positive experience. Getting to know you and meeting your individual orthodontic needs are our foremost concerns.
We like for each patient to feel as if he or she becomes a part of the Rankin & Fiume Orthodontic family by the end of treatment. We often have patients stop in just to say "Hi" and give us updates on their smile years after their treatment is complete!
Regular Appointments
The appointment when you get your appliance (braces, expanders, etc.) usually takes one to two hours. You'll see us at regular intervals, eight to ten weeks apart, for an adjustment, which takes 20 to 40 minutes.
Our regular office hours are Monday through Thursday from 8:00 AM to 5:00 PM. Patients are seen by appointment only. We make every effort to be on time for our patients, and ask that you extend the same courtesy to us.
If you cannot keep an appointment, please notify us immediately. Cancel only if it is an emergency. It is difficult to reschedule you, since most appointments are made six to eight weeks in advance.